Beyond Reason:
A Guide to Writing the Songs That Say What You Want them to Say
Available in print and as an ebook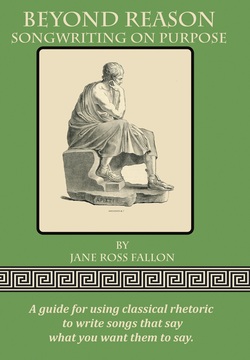 ---
---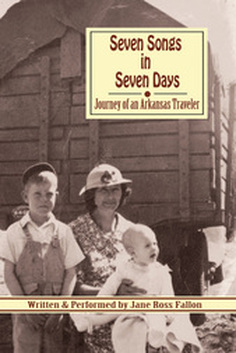 For the book go to:
Order directly from
me
(it's cheaper and I get more profit).
Book available on Amazon at
http://www.amazon.com/Seven-Songs-Days-Arkansas-Traveler/dp/0615508731/ref=sr_1_1?s=books&ie=UTF8&qid=1328031530&sr=1-1
From Corrine Smith, Independent Reviewer
:
"Seven Songs in Seven Days" offers not just good storytelling, but also a few peeks into the creative process of songwriting. By writing and thinking about our parents' pasts, we can better understand the paths we choose for ourselves. This book and CD package should be of interest to those intrigued by personal memoirs, by the father-daughter relationship, by the mystique of the Arkansas migrants of the Great Depression, and by the gumption it takes to craft a melody with lyrics out of thin air."
---
---
Other News:
---
Limelight Magazine Album of the Year Finalist: Tangled In A Tree
REVIEWS:
Metronome Magazine (Boston)
Singer Songwriter- guitarist Jane Fallon is the quintessential folk storyteller. Her poignant prose and beautiful voice engulf the listener with grand tales of vivid imagery and aplomb while combining complex elements of country, folk, and Americana. For her latest album, Tangled in a Tree, Jane enlists a top shelf cast of musicians that include Steve Gilligan on guitar, Tom Ruckey on Drums, Kenny Selcer on guitar, Deb O'Hanlon on vocal harmony, Jeff Root on Synth, bass, and guitar, Bob Francis on mandolin, Rob Carlson on Dobro and Slide, and Michael Ronstadt on cello, to develop her stories of everyday love, life, friendship, and satisfaction.

Songs of note include the magnificent opener, "Make it Right" which spawned the CD's title, the picturesque "Daddy Was a Cowboy", the honky tonkin' "One More Last Time", the beautiful memories of "Snow Angel" the two Steppin' bop of "Foolish Pleasures" and the uplifting "A Cappella Ella".

Playful, inspired and wonderfully recorded, Jane Fallon offers another fabulous offering that should be shared by the world.

Outstanding!

The Noise (Boston)

Fallon makes the type of music that requires you to leave your cynicism at home. For many a Bostonian, this would probably be a deal breaker, but it's their loss. The music here is pretty, intelligent and expressive, mostly folk but with some country flair as well. Fallon's songs have as much PMA as the Bad Brains and enough ruminations on friendship to fit in perfectly on a 7 Seconds record. Maybe the punks and the folkies aren't all that different! The band is solid throughout, led by the subtly great playing of guitarist Kenny Selcer. (Kevin Finn)


Billy Copeland Music News
On sheer talent alone, Fallon is a force to be reckoned with. She could go far and do well with the right kind of marketing and management. The depths of her vocal, lyrical, and acoustic guitar talents cannot be described, completely, in words. She does some things so subtle that you just have to hear it to appreciate it. She is a true artist and her artistry shines through on many levels in every song on this disc.


---